Sometimes having a kick butt home isn't enough to make your home standout and become the life of the party. It's really about the backyard as most typical rocking parties migrate to the backyard (especially if you don't want red wine poured on your white carpeting by some that had too many refills) and it will kick start at the deck. Checkout some awesome backyard decks on the list we have compiled.
1. Custom Curved Trex Composite Deck

Source: Trex.com
Forget concentrating on a fully functional traditional style deck, how 'bout an artistic style where the deck is structured in a curve like appearance? The bottom floor level built-in seating will merge with the curvature – unique and a great conversation topic for a party
2. Curved "Iron-wood" Ipe Deck with Enclosed Glass Fencing

Source: ZilloDigs
Here we have a cool contemporary deck that is built around an old white oak tree. Next time you want to rid your yard of a tree … why not work around it. You may just discover that you enhanced your property value with the unique addition
3. Roof-top Composite Timbertech Deck with a Fire-pit

Source: ZilloDigs
A contemporary deck built with composite decking material and a rectangular fire pit table makes a perfect accent to this modern deck design surrounded by raised beds
4. Curved Pressure-treated Deck With Bench Seating

Source: ZilloDigs
A traditional style deck with built-in seating cushioned for comfort surrounding an octagon shaped stone fire pit perfectly designed for a large group get together by the fire
5. Stained Deck with Custom Railings

Source: hootenhomesllc.com
Traditional style deck with a red waterproof stain coating with beautifully crafted white wrap around fence with a contemporary post top all setting the stage for an outdoor kitchen experience
6. Custom Curved Cedar Deck With Metal Balusters

Source: Decks.com
A highly functioning contemporary deck that is fully equipped to hold all of coolest "toys" that homeowners want for their deck i.e Jacuzzi, grilling area and seating. Throw in a large umbrella for unexpected rainfall and you've got yourself an ideal party deck
7. Custom Stained Deck With Pergola & Fire Pit
Source: diynetwork.com
A double level wooden deck designed with lighting in the steps for added security for those night time dips in the square Jacuzzi bubbling for some owners to join in along with built-in seating for drying off
8. Trex Composite Custom Leaf Style Deck – Gorgeous!
Source: Thisoldhouse.com
Here we have a gorgeous leaf leveled wooden deck and each leaf has its own fencing finished off with wonderfully designed leaf imprints
9. Amazing Composite deck with multiple levels
Source: anotheramazingdeck.com
Now this is a deck that wants to make the most of its spacial open concept by having the fire pit be apart of the "wall" instead of the pit being located in the mid-center taking up walking real estate
10. Contemporary Deck with Privacy
           Source: Decoist.com
A design geared to the folks that enjoy privacy within the contemporary deck design and modern furniture and wooden coffee table
11. Beautiful Hardwood Deck With a Privacy Fence
                        Source: rhsblog.co.uk
Here is a simple hardwood deck with a privacy fence that's perfect for urban and city life.
12.  Mahogany Deck With Custom Bump out for a Grill
Source: mbmcarpentry.com
Another budget friendly deck design in mahogany with a wrapped pine trim and cedar fir railings that really adds value to your home
13. IPE Hardwood Deck with a gorgons view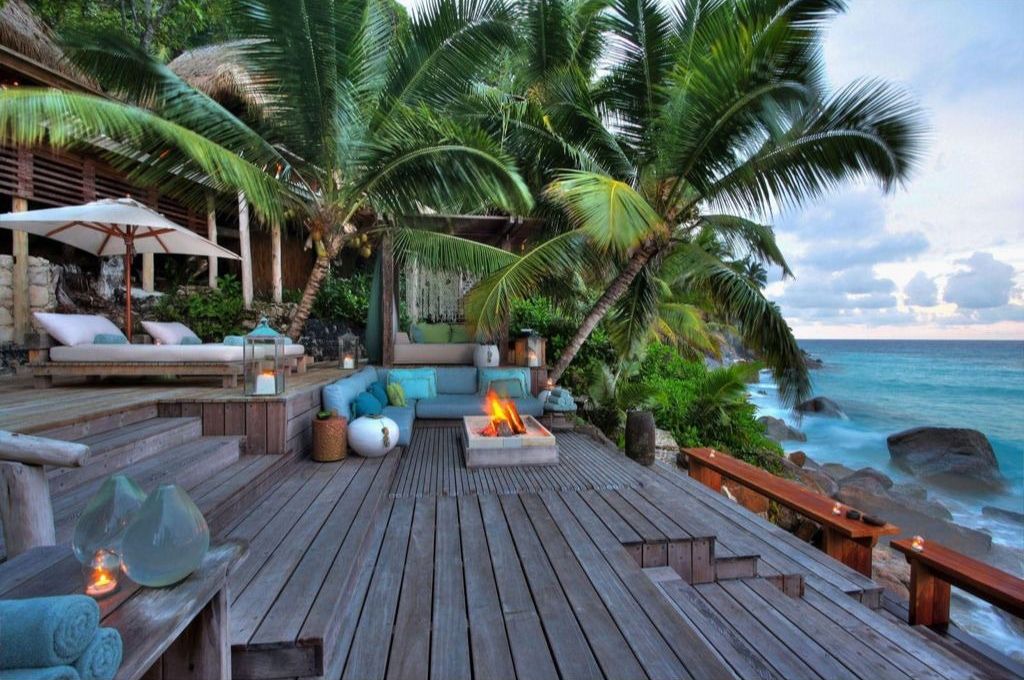 Checkout this beautiful tropical weather cedar decking with a cozy lounging nook facing a rectangular fire pit and the second level showcases an extensive lounging area with long lounge chairs under a white fabric styled bamboo umbrella
14. Cedar Deck with a Custom Pergola
A country style deck with a trellis sets the stage for this well-crafted wooden deck featuring rails made of pine and accents of hanging baskets filled with Bergonia bulbs and a built-in seating section on the top level
15. Mahogany Curved Deck with Bench Seating
A rustic deck designed with a pathway and a curved deck bench properly accented with raised beds of color and landscaping
16. Curved wood deck with outdoor lighting
Source: greatrailing.com
A lovely two-tiered wooden deck featuring a large grill made of stone and on the lower tier you will be welcomed by a fire pit in center of a seating area fit for some heavy topics of discussion
17. Custom Multi-level Hardwood Deck
A gorgeous outdoor wooden deck with an all wooden seating and dining area full equipped with a grill with all cabinetry.
What incredible level of craftsmanship in the quality of design and build that went into these custom decks. Which one was your favorite? Did you gain some ideas?